I've got new products in store today!
First, I'm releasing Beach Fun in my Digi Scrapbook Mania and Digi Scraps Drive In stores today! Perfect for all of you holiday + vacation photos! This kit is jam packed full of goodies!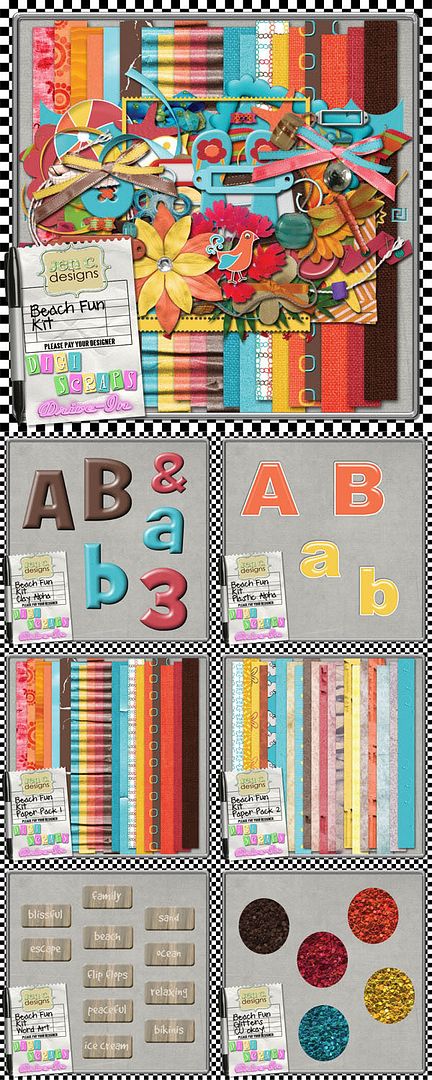 And if you use this coupon code:
bfglitters
You get the
glitters
free when you purchase the kit at DSM, DSDI or my personal store (until July 12th). Just add the glitters and the kit to your cart and enter the coupon code! (The glitters are sold separately)
Here are the store links:
Personal Store
Digi Scraps Drive In
Digi ScrapBook Mania
Today only - you can pick up this entire kit for just $2! Today is the last day of my huge holiday sale! All sales end at midnight tonight!
Check my blog all week for free QPs and cluster frames!
I'm also releasing my Stackables 1 Templates in my stores - these were a freebie last week during the DSDI Facebook Hop! But if you missed them last week, you can pick them up on sale today! (just $2!)
You can grab Stackables at all of my stores:
Personal Store
Digi Scraps Drive In
Digi ScrapBook Mania
Moo Two
3 Scrapateers
Today is also the start of CT Appreciation Week.
I'd like to brag about
Cindi
today - it's her birthday too!
She's been on my CT since pretty much the beginning. I asked Cindi a few questions and here's what she had to say:

What is your favorite color?
Green - a happy, cheerful lime green, not olive (except in the fall) :)
What is your favorite ice cream flavor?
Cherry Garcia or French Silk, but a good Vanilla Bean will make my day!

Which kit of mine is your favorite?
Coffee Time ('cuz it's the first one I used....not 'cuz I don't love the others!)
Why you do digi scrapping?
Digiscrapping helps me get my scrapbooking "fix" without having to drag out all my paper scrapping stuff all the time. Plus, I love UNDO!!!!
Here's one of Cindi's layouts from Coffee Time:
Go on - leave her some
love
!
You can pick up the kit right
here
:
Today is also the start of the Digi Summer Getaway! I'm really excited - today I'm running a workshop on shadows! I'll share it later on my blog - but for now it's just for those who registered :)
And now for your freebie - a
QP from Deanna
- isn't it fantastic?
Don't forget - today's the LAST day for my sales! And everyone who makes a purchase at my stores will be entered to win gift certificates! I'll announce the winners tomorrow!