Have you registered yet for the Digi ScrapBook Mania Summer Getaway? There are over $700 in prizes to be won - this includes CU And PU items! Click the image below to be taken to the forum where you can register.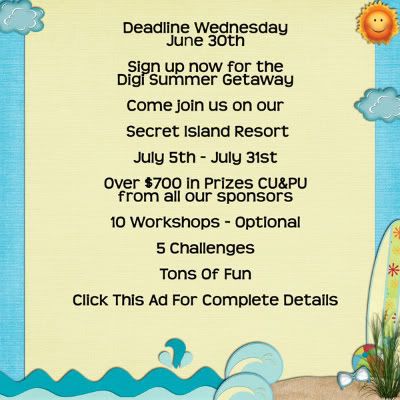 Or just click here:
http://scrapbookingmania.com/forums/forumdisplay.php?176-Digi-Summer-Getaway
June 30th is the deadline to register!!
And also, I'm giving away the CU pack I showed you yesterday - it's CU okay - so yes, designers - you can use it to make QPs for sale!
Here's a preview:
All you have to do is "Like" me on
Facebook
. I've already sent out the coupon code - but if you post that you've "liked" me I'll PM you the coupon code asap. Don't miss out on the DSDI Facebook Hop - all the designers will be reissuing their coupons for one day only tomorrow as well! There's free kits, alphas, templates + more!
Please note this offer is over - it was for the DSDI Facebook Hop which end on June 30, 2010. Thank you to all who participated!