Happy Thanksgiving! Well, if you live in Canada, Happy Thanksgiving - if you don't, alas, you'll have a while to wait for your turkey - and for that I'm terribly sorry!
Today, I have the privilege of announcing a brand new release - Crisp Fall Air. It's a collab I've done with Becky, aka
SAHM Scrapper
. You can grab my part
exclusively
at My Life and Scrap, and you can pick up her's at Stuff to Scrap. I have it on good authority she's got some goodies over on her
blog
!
Here's a preview of the
kit
:
My part of the kit includes: 7 patterned and 6 solid textured papers, upper and lower case alpha, 2 bows, 2 buttons, dating element, 3 flowers, 2 frames, leaves, 2 leather pieces, 1 pumpkin, 3 ribbons and ricrac, 2 staples, 1 stitching, 1 tag, 1 tree, 1 vine
Here's some CT inspiration from my exceptionally talented team (please note, the layouts include a mix of both Becky's and my kits):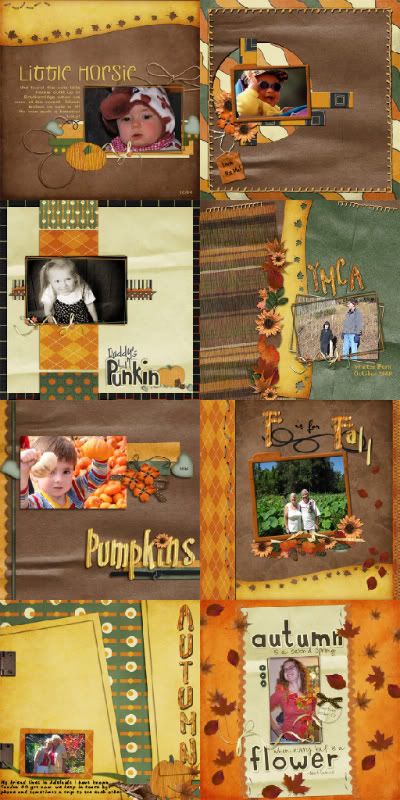 Challenges Update:
There are only a few more days to participate in the Gourmet Challenge at My Life and Scrap - pop on over to check it out :) My
25% off sale
for the whole month of October is still going strong too!
I'm also still hosting the scraplift challenges at
Digi Scraps Drive In
and
Digi Scrapbook Mania
.
A Little Something for you:
Even if you're not celebrating Thanksgiving today, I've got a coupon for you all! It's my little way of saying thank you to you all for being such amazing fans and supporters.
You can use coupon code:
tyouoct2010
at all my stores (
Personal Store
,
Digi Scrapbook Mania
,
Digi Scraps Drive In
, and
My Life and Scrap
) to save $3 off a $6 order! The coupon is good until Wednesday night at midnight.
Freebie Alert:
And last but not least, I've got a freebie for you that my amazing CT Amy created for you:
You can pick it up right
here
.
Come on back this week - there will be more freebies!